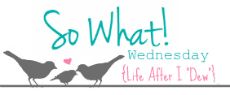 I'm linking up with Shannon over at Life After I Dew for another edition of So What Wednesday.
This week I'm saying So What that.....
*I have been obsessively eating tomatoes non-stop thanks to my cherry tomato plants over producing this year. Andrew hates tomatoes so I have to eat them all....
*I am sad that this season of Deadliest Catch is over. I love that show!
* I have guests coming next weekend and my house is kinda trashed from my purging after the bridal shower this weekend. I've got some time to clean things up!
*I have been obsessively painting my nails and toenails, I can't handle the same color for long.
*My flowerbeds are so full of weeds you can't see the flowers, I've been much too busy doing other things to weed!
*I got a little Bridezilla with my mom on the phone last night because she wants to take over EVERYTHING for this wedding!

So what are you saying "So What" to this week?