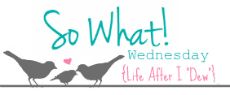 I'm linking up again on So What Wednesday this week, and you should too!!!
This week I'm saying "So What":
- if I don't sleep because I'm having wedding nightmares, my favorite one being my parents cats getting sick on my dress.
- that I am excited beyond belief about my bridal shower next weekend and mostly because of the food/pies.
- that my fridge is so full of food because I couldn't say no to amazing sales on veggies and fruit this week.
- I spend all my free time on Pinterest, Etsy and Facebook to distract me from wedding planning.
- I keep wishing we would have eloped.
- I cannot get motivated to clean my house, I have been keeping the kitchen clean but everything else has gone downhill quickly.