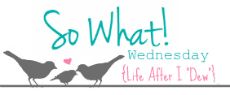 It's time for "So What Wednesday" again and here is what I'm saying "So What" to this week!
So what.....
That I just realized I am 52 days away from my wedding and there is so much to be done!
That all I can think about is cutting off my hair that's taken me a year to grow past my shoulders. I love it but man is it so much work!
If I still haven't put all the gifts away from my bridal shower, I've been so unmotivated.
That after organizing my basement about three weeks ago,it's a hot mess again. I needed a place to store all of this wedding stuff and it will only be down there for a few more months.
If I haven't weeded my flower bed or garden in a few weeks. Andrew's going to take care of that for me :)
That I am obsessed with my new pots and pans, I get so excited to cook dinner because my pans are so much easier to clean! I will never buy non-stick again!
That I am ready for fall so I can cook in the crockpot all the time, watch football with my dad, freeze apples and corn and make all things pumpkin!
That I am unmotivated to workout at night because I'd rather be watching the Olympics and Andrew hasn't hooked up cable to the TV by my treadmill in the basement. I think its a pretty legit excuse!
So what are YOU saying to what to this week? Link up over at
www.lifeafteridew.com
!