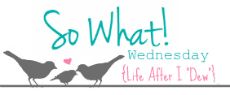 It's that time again, hard to believe that it's Wednesday already. Here's what I'm saying "So What" to this week:
- That I didn't check much of my wedding to do list this weekend because I was spending time with my family and volunteering at our church.
- If I didn't check things off the wedding list till yesterday, but its a lot of things: picked up Andrew's wedding ring, make a mock-up of our favor bags, got the hotel room block booked, saw a sneak preview of my bridesmaid jewelery and called at least one hair salon!
- If I cried a little and hand to turn my head when Andrew tried on his wedding ring. It's all becoming so real!
- That I pulled my butt muscle since I didn't workout for almost two weeks.
- If I ate chips and hummus for dinner last night because I was pooped when I got home.
- That my house is a hot mess, I've got a plan to do a little cleaning each night this week.
- If I've also been so lazy that I have my clean laundry all folded in a basket on the floor but I've never put it away. I swear this is not normal for me I'm just so over cleaning!