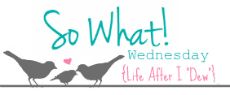 It's that time again, time for another So What Wednesday. So here's what I'm saying "So What" to this week:
That my wedding guests have a little less than two weeks to send in their RSVP's and I'm already worrying about tracking people down.
That I went through a pack of glue sticks already making my favor bags.
If I've been a really lazy cook lately and I can't wait for fall so I can start using the crockpot again.
That I am making dinner in the crockpot tonight, barbacoa beef just like Chipotle (we'll see how it turns out)
If my pinterest obsession is out of control, I'm on there for an hour or more every night.
That just when we get it together with money, Andrew decided to buy me a car and trust me I'm excited but not so much for the financial aspect.
If this car is also the second car I've ever owned, I drove the same car from age 18 to 23 - it had over 250,000 miles when I got rid of it and the girl who bought it still drives it! Yeah Chevy Lumina!
If I screamed like a baby when I cut my finger open this morning making our crockpot dinner and Andrew came running in the kitchen thinking I was on fire or something.
If I have a low pain tolerance.
That I'm getting married in one month and I feel a lot less anxious then I did this time last month, maybe I'm just starting to realize it will all fall in place.
That I'm going out of town for work for 5 days just a week and a half before my wedding, I think I can handle it. Oh and Andrew goes out of town the week of our wedding on Monday and Tuesday......we must be nuts!