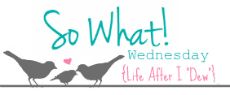 It's time for another edition of So What Wednesday and boy do I have A LOT to say this week!
So What.....
~ If I've been wearing a band-aid on my forehead for the last three days, thanks car trunk for putting a gash between my eyes three weeks before my wedding!!!
~ If I've had several emotional meltdowns this week, um hello I'm going out of town for work for 5 days and my wedding is less than three weeks away!
~ If I'm more excited about my honeymoon than anything else right now because I just need some quiet relaxation.
~ If I haven't been sticking to working out and being healthy (okay maybe I shouldn't say so what to that, but its been really tough lately)
~ If I'm obsessed with having a sun roof on my car, now if it would just stay cool and not so humid in Ohio I would love it even more.
~If I have a another new addiction, French Press Coffee....amazing!!!!!!!
What are you saying So What to this week?!