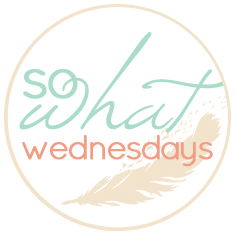 So what.......
If I'm already stressed out about paying for childcare. I mean this baby won't be born till January but I have to start worrying now, it's just in my nature.
That I'm going to a concert on Friday and I'm so excited I can hardly stand it. All my favorite 90's rock bands in one place INCLUDING Sugar Ray!? Heck yeah!
If I keep saying we shouldn't make plans on the weekends and then I turn around and book us to do a ton of things. I don't want to miss out on all the summer fun.
If I'm finally getting back into cleaning mode. Doing just a little each night seems to be the easiest thing for me right now.
That I'm in denial about my baby bump a little bit. I can still fit into some of my regular clothes but then this morning I couldn't button pants that I could last week and about died. I know this is supposed to happen.....bring on the belly band!
That my mom is supposed to make me some maternity clothes and I'm worried she will never get them done. She's been working on my kitchen curtains for 6 months now.....I think I might be out of luck.
If I had Andrew take me to Taco Bell last night because I wanted to try the new double steak quesadilla, it was good but not what I was expecting. Add that to the list of pregnancy cravings.
That I have been hiding people on my newsfeed on Facebook like no other this past week. Everything is getting on my nerves and if you post too much, post things about religion or politics consider yourself off my newsfeed!
What are YOU saying So What to this week?