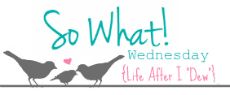 That I got my first wedding present in the mail yesterday and I had no idea if I was supposed to open it, but how could I just let it sit there unopened?! (It was a coffee pot)
If I have had to take Advil PM the last two nights because I haven't been sleeping through the night.
If said Advil PM makes me act a little crazy in my sleep and I was apparently patting my fiance on the back half the night as if I was burping a baby....whoops!
If I'm behind on my wedding to do list, I know it will all get done.
If I jumped up and down when I saw my first heirloom tomato starting to turn red last night. They take forever to become ripe and I just want to eat one so bad.
I went through a two week bout where I was a terrible cook, I'm going to blame it on stress. My last two dinners have turned out really well.
That I'm having my rehearsal dinner at a pizza place, it was so hard to find a place close to the church with a room to accommodate our bridal party/family. Our wedding isn't fancy, so the rehearsal doesn't need to be fancy either.
What are YOU saying So What to this week? Link up over
here
!