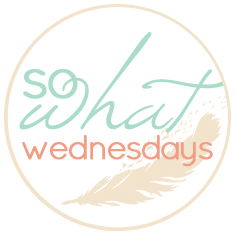 So what......
That I haven't cleaned my house really well for about two weeks and that I'd rather catch up on the DVR in the evenings instead.
If my husband is having a love affair with his truck, I'm ready for him to get this engine swap done so we can take our boat out. If that means he spends his evenings in the garage, then so be it!
That I've been having a hard time staying awake until 10pm for the last couple weeks. Getting up at 5am can be exhausting.
If it doesn't feel like the end of May/the day before my birthday. It was cold over the Memorial Day weekend here in Central Ohio and we didn't have our annual cookout.
If I thought my old laptop had maybe bit the dust last night, but it turns out that the charger was unplugged and since the cord is hidden under the couch, I didn't know.....*blonde moment!
If I already want to turn on the AC, as long as it's not as cold in our house as it is at my work.
If I'm super excited for the weekend because my dad is cooking a brisket for my birthday and he's the most amazing grill chef EVER!
If I am all about the Backstreet Boys having their 20th reunion, I was so obsessed with them!
That I have and always will love ironing.
If after 5 years we still have neighbors two doors down who won't speak to us or wave when they drive by the house. And so what if I flip them off when they aren't looking while I'm watering my garden. I have considered marching my booty over there and asking what their problem is but I'm too much of a wuss.